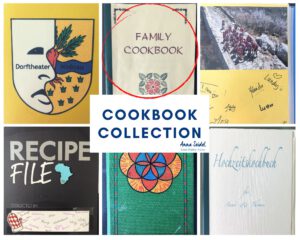 This post is part of a series covering the cookbooks and recipe collections we have been given over the years. See here for an overview of all the cookbooks. Today I'm sharing a bit of history and how it reaches through to the present, all wrapped around a bean recipe from our "Family Cookbook".
My claim that I'm a third generation global nomad (and expat partner) starts with my paternal grandparents. My grandma Corinne McKenzie spent much of her adult life as an accompanying spouse, raising TCKs abroad. In the mid-1920s she found herself living in Turkey, raising her firstborn (my Dad wasn't born yet), and learning to cook local dishes. After other assignments they returned to the USA and by the time my Dad came along in the 40s Turkish food was firmly established on the family's menu. This explains (at least in part) his love of garlic and eggplant (aubergine), for which he his renowned the world over! That's him in the top image, igniting culinary curiosity in our kids in Chengdu (BTW – that beer was mine, not our daughter's!).
After my parents got married, my grandma shared a number of her recipes with my mom (as MILs do :-)). My mom, always a creative and curious cook, gladly included a number of these in our family's dinners. The one that really stuck out for me was an oddly named dish: fasulja (or fasoulia, fasulye, …). Growing up I remember it involving a few cans of green beans and chopped tomatoes and lots of garlic; a quick and easy veggie side dish our working parents would make. This was the only way I would eat green beans (my sister The Single Expat wasn't that picky – all she needed was a can opener and a fork). 
As I grew up and started to cook for myself I drifted away from canned foods and forgot about this recipe, except when I would browse through my edition of the Family Cookbook for ideas. Then I would briefly reminisce about the delicious scent of garlic, onions and tomatoes bubbling away on the stove before moving on to cook something else.
I consider fresh green beans too much work for little reward and the kids never liked them much steamed or roasted so beans never made it onto our regular menu. BUT in China we discovered dry-fried beans, which brought the vegetable to our kitchen table with a bang! OMG they are delicious (will share a recipe soon) but a lot of work. So… the kids do like beans, if cooked right. Interesting.
Back in Germany. No real Chinese restaurants. No budget family restaurants. Lots of cooking at home. Time for some variety. 
So I dug out the old recipes and re-discovered my grandma's fasulja. Worth a try. I knew she got it when she lived in Turkey so on a whim I asked a neighbor with Turkish roots about it. She smiles and says she just cooked that this week and will send me her recipe, modified for the Thermomix (see image). Brilliant. 
Long story short – my kitchen was soon filled with the delicious scent of garlic, onions, tomatoes and beans bubbling away. I use frozen beans to limit the work and added sundried tomatoes for depth, as per the original recipe. This tastes great hot or at room temperature and the kids eat it!
The recipe has come full circle. Don't you just love a happy ending?