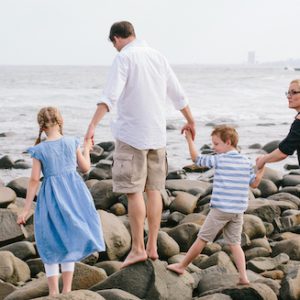 Grow closer and lean in as a family.
You spend time together but it doesn't feel like you're connecting?
You're preparing for an expat assignment and want everyone to feel ready?
You've been living abroad for awhile and it's time for a debrief?
You've repatriated and everyone seems so unsettled? 
I offer programs and packages for you and your family. Have a look through some choices here and then please get in touch to create an offer tailored just to you.
Don't stick your head in the sand. Living together abroad can be exhausting but it can also be a great time to connect with each other because you spend more time together.
Find your groove again – together.
Starting at
350 EUR
This 3-4 hour workshop, tailored to your family and their needs and current situation, gives you a safe bubble to check in with each other as you transition to a new place, repatriate or just want to reconnect. 
Find out what is weighing on each of you, what brings you joy and what you're looking forward to – and then make a plan to make it happen.
You gain insights and a fresh sense of adventure – together. 
EXPAT FAMILY FLIGHT SCHOOL
Expat parents have the sole responsibility for their children's mental and physical well-being: now and in the long-term.
The village is a long way away.
Learn about raising & caring for Third Culture Kids
Starting at
185 EUR 
The benefits of growing up "abroad" can be huge but so are the risks. Parents are often the only stable factor in the lives of their children. A factor that is too often ignored in the excitement of an international assignment. They need to look after themselves AND their children – this is a lot to bear on their own.
If you are a globally mobile family you will benefit from this course by gaining a deeper understanding of what it means to be a Third Culture Kid and how to raise them to be strong, healthy and resilient while also looking after yourself.
This 8-week program is for globally mobile parents and children and  combines video lessons, activities and (in the full version) live calls with Anna. 
eXPECT THE UNEXPECTED
Moving Abroad Workshop
You're planning to move to a new country. Wow.
Are you thrilled to get started or feeling hesitant about it? Are your kids (of all ages) excited or filled with trepidation or anger?
Would you like to feel really well prepared?
Starting at
550 EUR
While you can't plan for everything and you should expect the unexpected, there is a lot you can do to smooth your transition to a new place.
In your 3-4 hour (split over 2 days) family workshop we'll talk and learn hands-on how you can all prepare for a move and what to do when you land. 
Discover fun facts about your new country.
Understand what culture is and what it means to you.
Find ways to say goodbye to your old home and learn how to stay in touch with the people you love.
Talk about what you need during the actual move.
Choose steps to ensure a good start in your new place – including school, housing, friends & food.
Learn how a move affects every single person in the whole family.
Find ways to support each other and stick together like peanut butter & honey, whatever your global life throws your way!
Each family is unique. Contact me to tailor your family's expatriation preparation workshop.
HOME SWEET HOME?
Repatriation Workshop
You've lived abroad for a few years. 
Made your life in a new country, raised children, adapted & adjusted, and figured out how to get stuff done. Now it's time to move back "home". 
How hard can it be?
Starting at
550EUR

Take it from someone who's lived through it a few times: it can be devastatingly difficult or just really tricky.
In this 3-4 hour (split over 2 days) interactive family workshop we will…
Reflect on your family story & life abroad (debrief).
Look forward to what to expect in your passport country.
Learn from past experiences to prepare for a move to a country you think you know.
Bring your fears into the light and discover how to support each other.
Find ways to say goodbye to the people you care about but also the life you have lived.
Talk about how you have grown, who you and your children are now as individuals and as a family.
Start preparing for the new adventure ahead – including discussion of schools, housing, culture, friendships and family obligations & expectations.
Each family is unique. Contact me to tailor your family's repatriation workshop.
Anna is full of experience, wisdom, and kindness. The group chats made me feel connected and finally involved with a community of women who truly understood me. I loved every moment!
Mother of two
Flight School
I loved the videos the most. Anna has a very easy to listen to voice. The exercises were creative and relevant.
International Mom
Flight School
Ideas like creating a family motto, knowing your "why", keeping routines, and making "small friendships" are so dang good, and they're honestly something everyone who moves abroad can use.
Nicole
@The Expat Cast
If you are looking for support and feeling insecure about the effect of this whole expat adventure on your family Anna is a great source of wisdom to get in touch with!
Kate
Share the Love
I feel like I've discovered a secret world. Tailored just to us.
Erica
Global Mom
You might also be interested in
I offer programs and coaching for you and workshops for your organization. I run #IamRemarkable empowerment workshops and I've always got something cooking in upcoming events. My creative side is always more than happy to build something that fits your requirements. Have a look around and contact me for more information.
Get "A little Something..." from me
I regularly share "A little something" with my readers:  updates, links, resources & things to make you smile – for parents and kids living abroad. Signing up also gets you FULL ACCESS to my content library of workbooks, recipes from around the world and other downloads.