I sometimes include recipes in my posts – want to browse them? Click here.
ACEs affect children in the form of mental & physical...
Read More
Looking back at 2021 and how my word of the...
Read More
Did you know there are 7 types of rest? Find...
Read More
What's it about? Every May for the last few years...
Read More
Much has been written about repatriation, how difficult it can...
Read More
Trailing or TrailBLAZing expat spouse? It's very much a matter...
Read More
Learning new languages, starting business, continuing your education and growing...
Read More
High risk allergies, embarrassing toilet moments, and solid expat mom...
Read More
Subscribe to News & Updates
And Get
"Top 10 Tips for Moving Country with Kids - from a Mom who knows"
More importantly you get a short weekly message with "A little something" on things related to living globally as a family (links, news, jokes, updates and the inside scoop).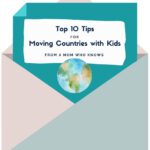 WordPress – Global Mobility Trainer