I sometimes include recipes in my posts – want to browse them? Click here.
Not rocket science and not brilliant breakthroughs but I've been...
Read More
Subscribe to News & Updates
And Get
"Top 10 Tips for Moving Country with Kids - from a Mom who knows"
More importantly you get a short weekly message with "A little something" on things related to living globally as a family (links, news, jokes, updates and the inside scoop).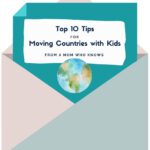 WordPress – Global Mobility Trainer