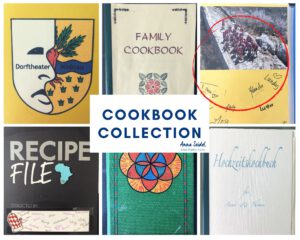 This recipe is part of a series about cookbooks and recipe collections we have been given over the years. See here for an overview of all the cookbooks. In this post I will introduce Wild Women on the Wall – my tribe.
Wild Women on the Wall - 2019
Imagine, if you will, living near one of the most remote, rugged, and breathtakingly beautiful coastlines in the World: South Africa's Wild Coast. You spend evenings walking, sometimes running, on the beaches near town and some weekends you venture out further, along gravel roads, past rondavels, Nguni cows and waving children to explore some of the few accessible bits of the coast. Shipwrecks, waterfalls, shark-invaded inlets and rivers, and an ever changing wild and wonderful coastline keep the Wild Coast off limits to most locals and tourists.
Now imagine hearing from a friend that her sister and 23 other women were going to spend 3 days running along the coast, swimming across the rivers, dancing along the cliftops. My first thought was "they are out of their flipping minds!" followed a split second later by "how can I join?". I felt an ache to be part of this adventure. To enjoy the freedom of running for days, to feel the power of my body rewarding me for months of training and to be held and supported by a community of women. But I heard getting into Wild Women on the Run is very hard so I didn't even try. 
And then we left South Africa and moved to China and I continued to watch from afar, writing it off as a dream that I probably couldn't have managed anyway. Me. Running for 3 days. Silly, right?
But fate had other plans. A year after we landed in China, Lucille did, too. Lucille is one of the founders of Wild Women on the Run and a go-getter if ever there was one. She took one look at the Great Wall of China and hatched her plan. It took planning, organizing, convincing, a lot of support by local guides, two steps forward and one back, patience, tears, frustration and joy, coordination across three time zones, as well as a tribe of dedicated, strong women but in April 2019 Wild Women on the Wall took off. 
And so did I. And it was everything we all dreamed it would be. Months of training paid off as we ran, climbed, clambered, slipped, and laughed along, up, over, and down the Great Wall of China. A tribe of women carrying passports from 12 countries that had trained, fundraised, and planned across four continents came together as a sisterhood. We enjoyed the freedom of running for days, felt the power of our bodies rewarding us for months of training and held and supported each other. Even when the unthinkable happened and our last night ended in a Chinese emergency room. Injured and in shock the support and care was there and we made it through. 
Even a year later, after so much else has happened and we are scattered to the winds, there is still a bond. And when life has been tough in the last year, my Wild Women bracelet has reminded me that I'm tougher. That I'm strong and that I'm not alone. Connections are important, wherever you are in the world and in your life. If you don't have a tribe and can't find one to join, be the spark yourself. It might take time for the fire to ignite and draw others in and it might not be easy but it will be worth it. You too are strong.
Read more about Wild Women and how you can support our charities on the website or contact me.