Sometimes we need a kick in the rear, a breath of fresh air, or a spark to re-ignite us. When it comes to writing, I get this with the blogging challenges sympatexter.com runs. This time we were challenged to write about 
"Why I love (fill in something about the work you do)". 
Choosing my subject was EASY. It also happens to fit well with the April theme of getting to know me a bit more (like this post).
Read my bio on the right. What's the first word I use to describe myself? Trainer. That's where my passion lies. I really enjoy facilitating workshops but I particularly love developing them. Let me tell you…
Why I love... developing workshops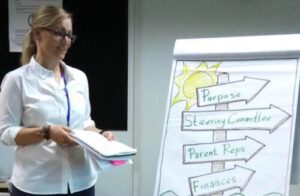 #1 The END - I love it for the aha! moments
Honestly – I love conducting workshops for the thrill of experiencing people's aha! moments. That moment where something clicks, where a participant moves ahead a step so confidently they never step back. It's exhilarating, stepping in front of a group, not knowing exactly who they are or where the course will take us but confident it will be interesting.
But this is just the cherry on top. 
#2 The BEGINNING - the process plays to my strengths
Running a workshop is the end goal but it's not the highlight for me. The process of developing story, content and design is much more enticing. 
It's safe to say most people would characterise me as methodical with a dash of creativity and a healthy dose of curiosity (one of my core values). I think its this  combination that give me a good foundation to create workshops.
It all starts with an idea – usually in my head, sometimes in a clients'. Then I give myself time to mull things over. I read and take notes. I research. Until the moment when it comes together and I have to sit down with pen and paper and pour out the first draft. You remember magic eye images where you have to let your eyes unfocus to see the hidden image? That moment when the image forms and then jumps out at you? That's what it feels like. 
(You could never get Magic Eye images to work for you? This article explains why.)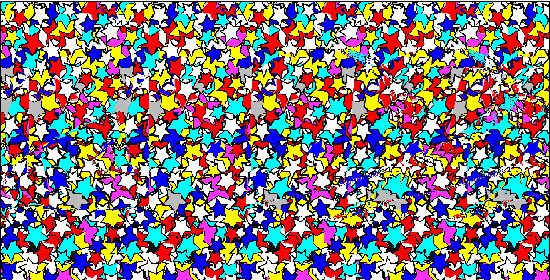 Once I've captured it on paper, I let it sit a bit, working in my head some more, stewing and letting the anticipation build until I can't wait any longer and type it up. I use spreadsheets to structure my workshops by sections: title, content, message, intervention, exercises, ice breakers, timing, follow up questions – all of this goes into the document.   
#3 The MIDDLE - developing workshops gets me to FLOW
Once I've saved my outline I can really dig into each section. This is where I start to develop a clear design concept, create slides or flipcharts (or new: video content) and workbooks with exercise details. I go back to my research notes, re-read papers and books, find new information online and merge it all into my message: building the story, the journey we will go on in the workshop.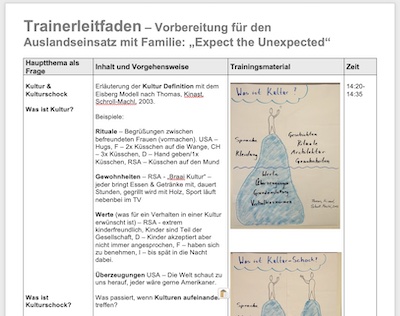 I can (and do) spend hours at this. I come to resent my family obligations because I would rather be working on my course. Hours fly by until I look up, parched and urgently needing a comfort break but not wanting to stop. Hello FLOW, you beautiful thing. 
It is invigorating & thrilling, it's simulanteously creative & structured. In other words, my workshops are authentically me. Best of all? The feedback I get confirms that the work I put in isn't just rewarding to me but to my participants as well. And ultimately that's what it's all about.
Most recently I've been burning the night oil building my Family Flight School course for parents and children. This is a project that has been waiting to emerge for a long time and I'm very excited that it's finally coming out. We kicked off the pilot course this week but if you want more information about the next dates, please send me a message.