Discovering your
family values
A gift for ICH BIN EXPAT conference attendees.
Are you looking for common ground with your kids?
Could you use some help making hard decisions?
Would it feel good to have shared language that connects your family?
Do you struggle to decide which of many cultural traditions to celebrate?
Identifying your family values will help you with all of this and more. 
Click on gift image to download your copy of the workbook.
Arriving and setting up house & home in a new place can be really hard – especially when everyone else thinks it should be easy and fun. I've been there. It's not. But with me by your side it can be a little easier. Find out more about BY YOUR SIDE.
Follow along on these channels and sign up below to get "A little something" from me straight to your inbox every week.
Get
"A little something"
Simplify your next move. Get my Top 10 Tips for Moving with Kids.
I regularly share "A little something" with my readers: 
Short and sweet, links, resources & things to make you smile – for parents and kids living abroad. Don't miss out.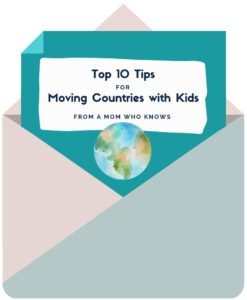 Sign up now and get immediate stress relief:
Top 10 Tips for Moving Country with Kids
– from a Mom who knows
Because sometimes we need something to make life easier.