Community & Tools to Master Expat Life
Don't miss out. Get all the updates.
What is adapt.succeed.together. ?
A proven coaching program for those who've moved internationally, giving you all the tools you need to succeed abroad.
Adapt and Succeed Abroad, created by Sundae Schneider-Bean, combines professional video lessons and reflection exercises that address the most common challenges expats face.
Get even more out of Adapt and Succeed Abroad with the help of a licensed facilitator who knows how to help you apply the lessons to your exact situation and get through any sticky bits.
Join up with others in a private popup Facebook community for shared insights, new perspectives, and genuine support. All 5 groups will be together, sharing key takeaways and bonus resources.
The program will be run by 5 different coaches, each with a different focuses. Groups will run the Adapt & Succeed program simultaneously, with shared community and resources. Everyone will receive bonuses and recaps from all coaches. See details here.
In my group, I will place an extra focus on parenting children outside of your passport country. We will dive into the Third Culture Kid (TCK) experience and how you can support your children growing up between cultures. No one can "pour from an empty cup" so we will also speak about how you can look after yourself so you have the energy and resources to raise strong, healthy TCKs.
You can read more about my story as a TCK and TCK mom here. Also check out my blog posts and resources around TCKs by following this link.
Does adapt.succed.together sound like just what you've been looking for? Or do want more details? Please fill out the contact form and I will get in touch with you asap. A no-strings-attached exploratory call can help answer your questions and see if this program is a good fit for you.
You can also join the free events we're running to introduce you to us and the program. Check out the calendar, below.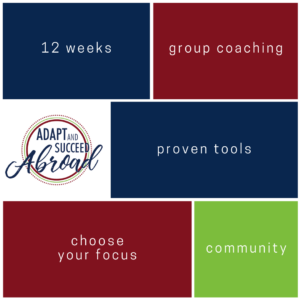 [contact-form-7 id="3682″ title="Contact form 1″]
Please note:
European law requires you to "double opt-in" before we can get it touch. If you don't see a new screen after submitting the form or you don't get an email from me right away your registration isn't complete. Please send me a message: contact@globalmobilitytrainer.com​